CHICKEN SALAD
                                                      "Creamy, Tasty, Homemade Chicken Salad"
Heeeeey, PBJ's…. today I'm going to share my creamy, amazingly delicious, homemade chicken salad recipe with you guys. This chicken salad is the BOMB yall!!!! I'm so excited to share this recipe with you all! Salad is my specialty and it's so gratifying when you all tell me how much you enjoy my salad recipes; chicken salad happens to be one of my favorites!!!!
People like to prepare chicken salad during warm months when they want to whip up something to eat real quick without having to spend hours laboring over the stove. When it's hot outside… the LAST place you want to be is in a hot kitchen preparing a meal for the family. This is why salads are so popular during the summer time.
Another thing I love about this recipe is how light it is on the stomach. It won't leave you feeling stuffed unless you eat too much because of how good it is lol. You can eat chicken salad as a sandwich, which is how I like to eat my chicken salad… or you can eat it as a spread over some saltine crackers like my grandma use too…. now that's a great late night snack…..
Chicken salad is a great lunch to prepare for your children, and the perfect kind of recipe for family picnics and road trips. Now people don't usually make chicken salad for summer cookouts, they make salads like potato salad, tuna macaroni salad, and pasta salad for such occasions. Chicken salad is typically made with leftover chicken meat from a whole chicken recently baked for dinner, that's the only time my family made it. During the winter months, instead of using the leftover chicken meat to make chicken salad, we'd use it to make chicken stew. I always thought of chicken salad as a way to not waste leftover chicken meat!
Guys, chicken salad can't get any better this here!!!! The full recipe with all the detailed instructions can be found below, so check it out! Once you try this recipe, you won't go back to making chicken salad the way you use too!
Ingredients
2-1/2 Cups Shredded Chicken
3 Tbs Celery, finely chopped
3 Tbs Red Onion, finely chopped
2 Tbs Dill Pickles, finely chopped
1 Large Egg (optional)
5 Tbs Mayo
1 Tbs Sweet Relish
Salt To Taste
1 Tsp Garlic Powder
1 Tsp Onion Powder
1/2 Tsp Parsley Flakes
1/4 Tsp Black Pepper
Instructions
1. Ok so to begin this recipe, the first thing you're going to do is focus on the chicken. There are a few things that I want to address regarding the preparation of the chicken meat. As I stated earlier, whenever my family and I made chicken salad, we used the remaining chicken left over from a whole chicken we baked (usually a few nights before for dinner). Now if you don't have any chicken meat prepared, here are two options.
Buy a small rotisserie chicken from your local supermarket.

Cook 3 large boneless chicken breast.
If you decide to buy a rotisserie chicken, shred or chop up 2-1/2 cups worth of chicken meat. To make chicken salad using chicken breast, place the chicken breast in a skillet with a little chicken broth, and let the chicken cook over medium heat until tender, then shred or chop the breast.. 
The 2nd option (using chicken breast) is my least favorite way to make chicken salad. I prefer using rotisserie chicken to make chicken salad but chicken breast will suffice!
Side note: The dark meat is the one thing i'd say makes chicken salad using rotisserie chicken better than chicken salad made with boneless chicken breast. When I make chicken salad, I like to use a combination of white and dark meat

 as you can see in the photo

below.

 You however, can use both or whichever you prefer.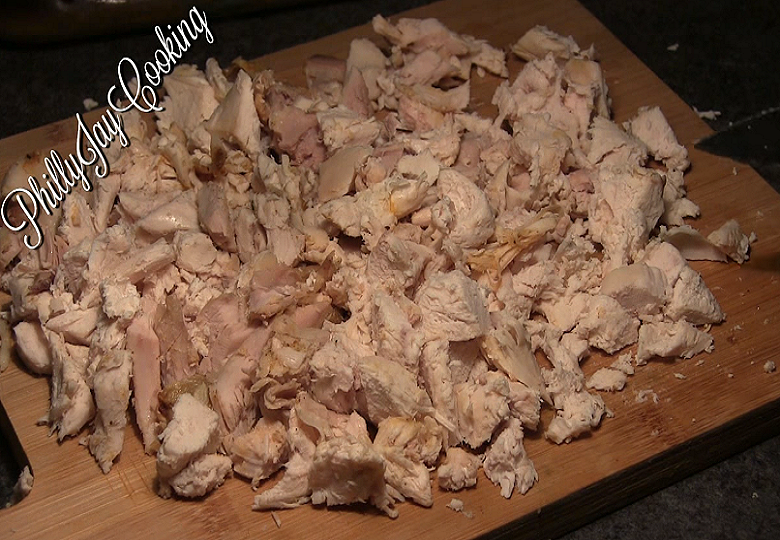 2. Now that you've prepared the chicken, you're going to move onto the next step, which is to boil the egg. So place a small pot of water over high heat. Once the water comes to a boil, add the egg and boil it for 10 minutes, then sit it aside to chill.
3. While the egg is boiling, chop the celery, onions, and pickles into small pieces. I chop my vegetables into fine pieces because I don't like biting into big chunks of vegetables, but you can chop them into whatever size pieces you like.
As you can see,  I have red onions listed in the ingredient section above. The onion doesn't have to be red though, I just use red onions for decoration purposes to make the salad look pretty.
4. Once the egg chills, chop it into small pieces. Most people don't use eggs in chicken salad which is why it's listed as an optional ingredient. I like eggs in my salad but you may not so you can leave it out if you like.
5. Now it's time to combine everything, so add the chicken to a big mixing bowl, then stir in the seasonings.
You may notice in the ingredients section that I didn't list the amount of salt to use. The reason being because sometimes rotisserie chicken from the supermarket is already seasoned. If you're using leftover chicken meat from a chicken you baked, you may not need any additional salt. To ensure you don't over season the salad, taste it once you're done preparing it, and add salt if needed. For my cooking novice out there, if after tasting the salad you feel it needs some salt, keep adding 1/4 tsp of salt until the salad is as seasoned as you like.
6. Stir in the vegetables and eggs.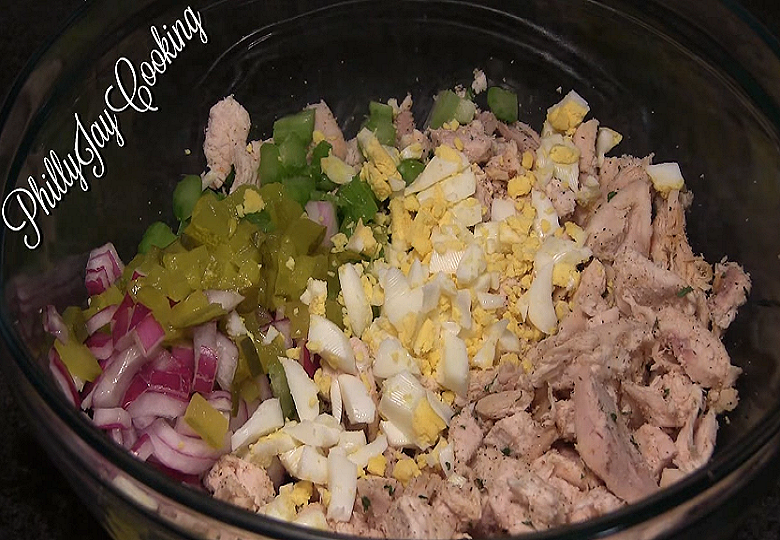 7. Then you're going to add the relish and mayo. Use big tablespoons of mayo, not leveled ones.
8. Stir everything in well, then store the salad in the refrigerator to chill.
I always let my salads sit in the fridge for a while before digging in! Allowing the salad to rest a few hours maximizes the flavor. I also like my salad chilled but you can eat it as soon as you're done combining everything if you like.

I don't use a lot of mayo because I don't like my chicken salad wet, but I used enough so that the salad wouldn't dry out which happens once you store it in the fridge.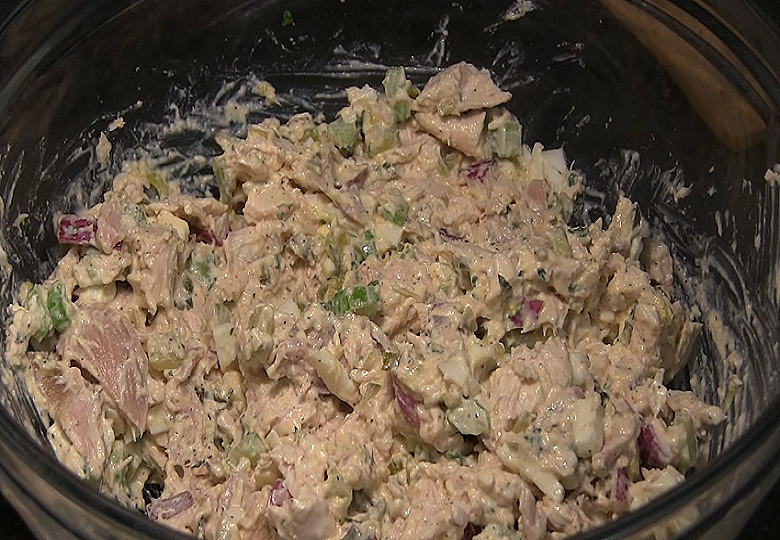 In the picture above you can see how the celery and onions provide color, making the salad look nice and pretty. Again, I use red onions solely for decoration purposes.
I love this chicken salad recipe and I know you will too. Enjoy!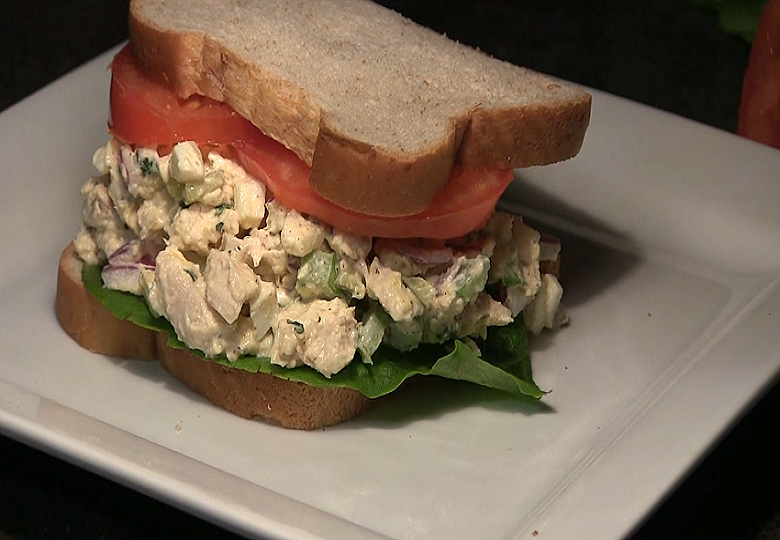 RELATED RECIPES BELOW!
                 CREAMY, SOUL-FOOD STYLE, HOMEMADE    
                                     POTATO SALAD RECIPE